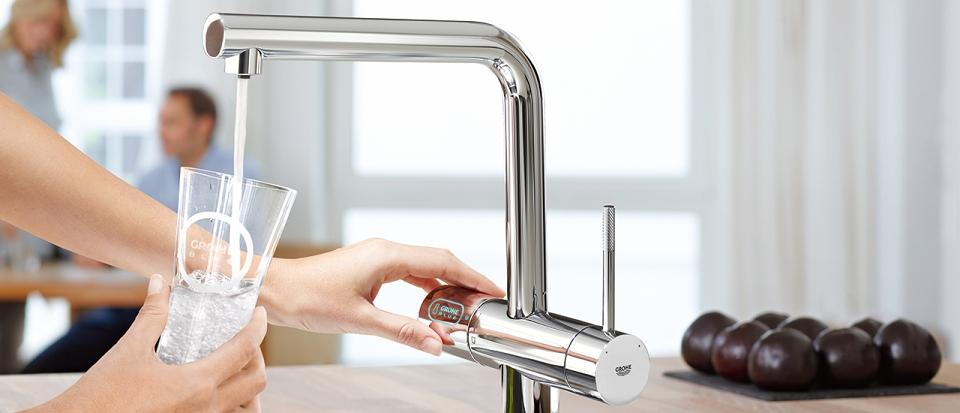 GROHE Blue® named KitchenInnovation of the Year® 2015
Consumer award presented at Ambiente fair in Frankfurt, Germany
Customers want good advice and assistance when making purchasing decisions. They usually get the most honest opinions from other consumers who have already used and experienced a product. This is why the LifeCare Initiative has launched the KitchenInnovation consumer award, which is presented every year on the occasion of the Ambiente exhibition in Frankfurt, Germany. Among this year's prize-winners is GROHE Blue®, the innovative water system offering great taste, comfort and sustainability.
In the eyes of the customer, the "KitchenInnovation of the Year®" badge is trustworthy endorsement of the quality of a product. Any manufacturer of products in six different categories may take part in the competition. An independent panel of recognised, renowned experts and a poll of 1.500 consumers then assesses all entries in terms of user comfort, practical benefit, innovation content, design and sustainability to ensure a thorough, all-round assessment. The individual ratings are then condensed into a weighted verdict. GROHE Blue® was entitled "KitchenInnovation of the Year® 2015" in the "kitchen furniture and equipment" category and won the "Golden Award – Best of the Best" for the highest score within its category. Consumers especially valued the innovation, the design, the sustainability and the personal benefit of GROHE Blue®. The system supplies three different variants - sparkling, medium and still - of filtered and chilled water straight from a special kitchen faucet. This obviates the need for long, fuel-consuming trips to the supermarket as well as for carrying and storing heavy bottles.
GROHE Blue® and the other winners received the renowned award on 14 February at a public ceremony staged at the Ambiente exhibition in Frankfurt, the biggest international consumer goods fair and the leading event in the industry's calendar. On top of that, the results from the consumer poll were made available to the winners. Visitors to the fair had the chance to see and experience the award-winning products in Foyer 5.1/6.1, where several professional chefs demonstrated and explained the many benefits and USPs of the award-winners in live presentations.
The consumers have cast their votes: GROHE Blue® is a KitchenInnovation of the Year® 2015 and Best of the Best.
Read more about GROHE Blue®